Introducing the newest collection
Embroidered Bird Collection
---
Paint Your Pet Workshops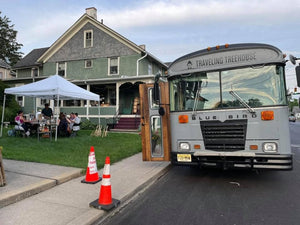 Offerings
I offer pop-up workshops at local businesses, private parties in your home and am willing to travel.
About the Workshop
I create a hand drawn portrait prior to the workshop and guide my students on painting their own Custom Pet Portrait by utilizing a paint by number style instruction.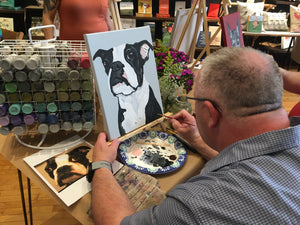 Results
After 2 hours of receiving guidance and instruction, my students leave with a completed and ready to hang 11x14 canvas of their pet.
Hooray......We bought a BUS!
I am happy to introduce you to the newest member of the Treehouse Family!
We bought a 1990 Blue Bird fully converted off-grid skoolie. I am working on setting up a blog to document our adventures.  We are currently choosing the name so stay tuned for that big announcement.  Cheers to the open road. Be sure to follow along on instagram @treehousecraftsllc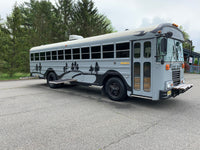 Our Story
Just over the Delaware River, in Sandyston, New Jersey is where we create all the magic. Rooted deep in our hearts, Treehouse Crafts was formed in our Treehouse from a whole ton of love, passion for handmade products and family. It's about kids and toys, celebratory banners, dogs and birds. Our family's love for our dogs and nature have helped build our top products: Custom Pet Portraits, Custom Felt Dogs and the Felt Bird Collection.
Everything is handmade right here at the Treehouse.  For little hands with big imaginations or for the child inside all of our hearts- We offer something for everyone. 
**family portrait hand painted by Michelle at brushandinc.com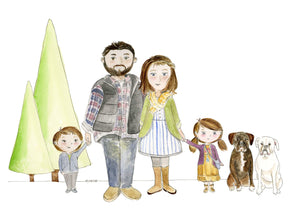 Testimonials
I lost my sweet boy Vito suddenly and unexpectedly a little over a month ago. Getting his portrait made is how I chose to remember him. I am so happy I found this shop to do it. Lisa has gone above and beyond. She's been kind, understanding, and the pic speaks for itself. I sent her several pics and she clearly combined them all to get his details right. His eyes are the most striking, and it's like looking into Vito's eyes again. I've been in tears since I received it because she captured his essence so well. Thank you for everything, Lisa! I'll be back to get my other fur balls painted soon!

Tiff R.
As a 2x customer of Treehouse Crafts I cannot say enough good things about Lisa and her many talents. She has an uncanny ability to capture your dog's personality in a custom portrait, with a color scheme & vibe that suits you. She is as sweet as she is kind and - best of all - is super quick to communicate with you about the portrait (sending you a preview before it's officially done)!

Kirsten D.
My family orders from the Treehouse often and every time we are blown away by our experience! It's the reason we keep coming back for more. Lisa is a brilliant artist and makes you feel so comfortable from the moment you start a project with her. She created the perfect banner for our gender reveal. She has a heart of gold and her work is impeccable. If you're looking for a fantastic product, great quality and a personable shopping experience, you're in GREAT hands with Lisa.

Laura F.